Are you tired of feeling uncomfortable and self-conscious in your clothes? Do you struggle to find styles that flatter your figure? It's time to stop the frustration and start dressing for your body type! Understanding your unique shape is key to selecting garments that accentuate your best features and boost your confidence.
In this complete guide, we'll walk you through how to determine your body type with measurements, identify the most flattering clothing for each shape, choose the right shoes, and more. Whether you're curvy or athletic, petite or tall, this guide will help you dress like a pro!
Determine Your Body Shape With Measurements
The first step to dressing for your body type is determining your shape. It's not about being a specific size or weight, but rather understanding the proportions of your body. To get started, you'll need a tape measure and a mirror.

Begin by measuring your shoulders, bust, waist, and hips. Write down each measurement and use them to calculate your ratios. For example, if your bust is 38 inches and your hips are 42 inches, you have a hip-to-bust ratio of .90.

Next, look at yourself in the mirror and identify which areas are widest or narrowest. Do you have broad shoulders? A defined waist? Fuller thighs? These observations will help you determine which body type category you fall into.

There are several common body types including apple (wider midsection), pear (wider hips), hourglass (evenly proportioned with a defined waist), rectangle/straight (similar measurements throughout), inverted triangle (wider shoulders than hips), and more.

Once you've identified your shape through measurements and observation, it's time to start dressing accordingly!
Determine Your Body Type And Dress Accordingly
When it comes to dressing according to your body type, identifying your specific body shape is the first step. However, it's equally important to determine your body type as well.

There are four main types of body shapes: hourglass, apple, pear, and rectangle. Each one has its unique characteristics that can help you choose clothing that flatters your figure.

For instance, if you have an hourglass figure with a small waist and balanced proportions between your hips and bust, consider wearing clothing that accentuates those features such as high-waisted pants or dresses with a fitted silhouette.

On the other hand, if you have an apple-shaped figure with more weight around the middle section of your body than anywhere else, opt for clothing that draws attention away from this area such as A-line dresses or tops that cinch at the smallest part of your waistline.

If you have a pear-shaped figure with wider hips than shoulders and a smaller bust size, try wearing tops that highlight your upper half while elongating the appearance of your legs through slim-fitting pants or skirts.

If you have a rectangle-shaped figure with little definition at the waistline and similar measurements throughout most areas of your body, consider wearing clothing that creates curves such as ruched dresses or belted jackets.

Determining which category best describes your body type and understanding how certain styles complement those features specifically can make all the difference in achieving a cohesive wardrobe.
Dress For Your Body Types
Knowing your body type and dressing accordingly is essential to look your best. There are five main body types: apple, pear, hourglass, rectangle, and inverted triangle. Each requires a unique approach to dressing that highlights its strengths while minimizing its weaknesses.

The apple-shaped body type, it's all about creating an illusion of a waistline by highlighting the bust and legs while avoiding tight-fitting clothes around the middle section. A-line dresses or tops with V-necks do wonders for those with this shape.

The pear-shaped body type benefits from clothing that balances out their proportions by adding volume to the upper half of their bodies. This can be achieved through wearing statement necklaces or off-the-shoulder tops and dresses that draw attention upwards.

Hourglass shapes should focus on form-fitting clothes that accentuate their curves without being too revealing. Wrap dresses or high-waisted bottoms paired with crop tops are perfect options for these figures.

Rectangular shapes benefit from clothing that creates the illusion of curves such as belted jackets or skirts with ruffles around the hips area. They also should experiment with layering pieces to add depth to their outfits.

Inverted triangle-shaped people require balance by adding volume to lower parts of their outfits like flared pants combined with fitted blouses or shirts.

By understanding your body type's strengths and limitations when it comes to fashion choices, you'll always look sharp and stylish!
How To Dress According To Your Body Type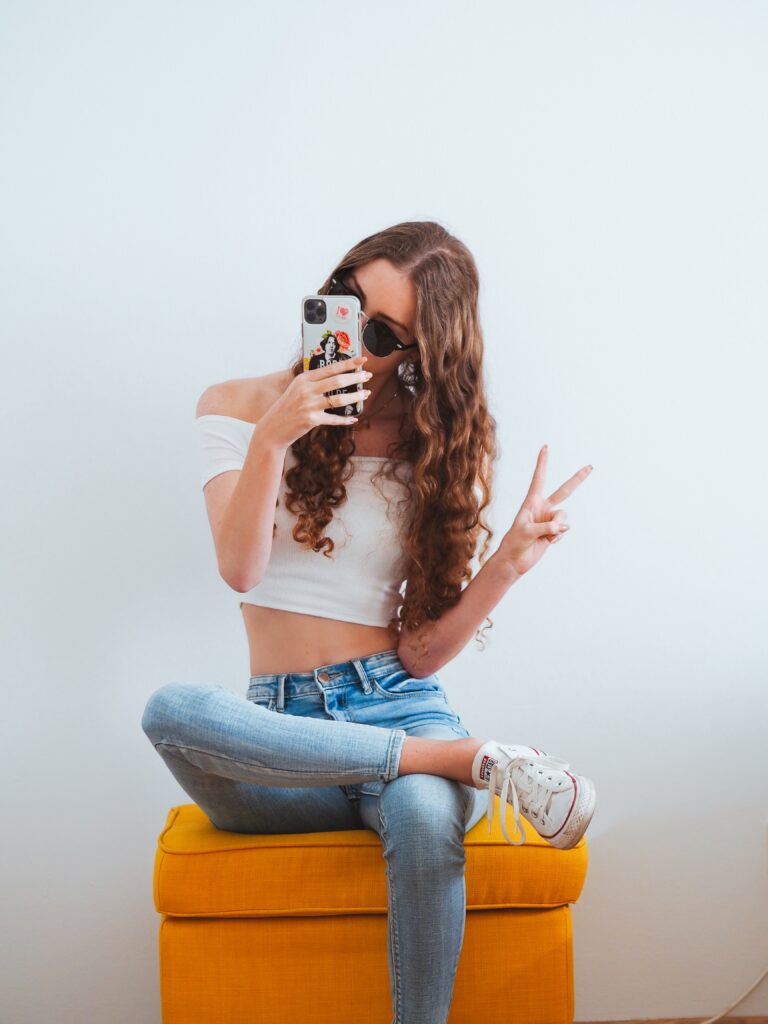 How To Dress According To Your Body Type
The Right Pair Of Shoes For Your Body Type
When it comes to dressing according to your body type, choosing the right pair of shoes plays a vital role. Wearing the wrong shoes can easily ruin an entire outfit and make you feel uncomfortable all day long. Here are some tips on how to choose the right pair of shoes for your body type.

Firstly, if you have a petite frame, avoid chunky or heavy-looking shoes as they can overwhelm your small stature. Instead, opt for delicate and feminine styles such as strappy sandals or pointed-toe flats that elongate your legs.

If you have wide feet or calves, go for shoes with wider widths or adjustable features like straps or laces. Avoid narrow silhouettes that may cause discomfort and wear down quickly.

For those with larger frames, avoid dainty footwear as they tend to look out of proportion with broader shoulders and hips. Instead, try statement pieces such as ankle boots in bold colors or patterns that bring attention to your feet while balancing out your overall appearance.

Remember to always prioritize comfort when selecting footwear. No matter what size or shape you may be, comfortable shoes will keep you feeling confident all day long.
Followingg these simple guidelines when choosing footwear based on body type preferences will ensure both style and comfort needs are met!
Final Notes: How to Make a Glamorous TikTok Video?
Final Notes
How To Dress According To Your Body Type
To sum it up, dressing according to your body type is all about finding what fits best and makes you feel confident. Remember that fashion rules are meant to be broken, so don't be afraid to experiment with different styles and combinations. It's important to embrace your unique features and celebrate them by highlighting your assets.

Always keep in mind that the most important thing when getting dressed is how you feel in the clothes you wear, not necessarily how they look on their own. Confidence is key! With these tips and tricks for dressing according to your body type, you'll be able to find outfits that make you feel great every day.

So go ahead and try out some new looks tailored specifically for your body shape – who knows, maybe it will lead you down a whole new path of discovering even more about yourself through fashion!