Summary:DVDFab is a company that develops and sells consumer-oriented software. With over 20 years of development experience, they have provided software to millions of users in over 180 countries and regions worldwide. In this article, we will explain about DVDFab's popular product, DVDFab Blu-ray Copy, developed by DVDFab.
What is DVDFab
In a narrow sense, DVDFab refers to the programs included in the software. The current version is 12, so it is referred to as "DVDFab 12". In a broader sense, DVDFab includes various software such as Passkey, StreamFab, Toolkit, and PlayerFab, in addition to DVDFab 12. The entire suite of software is referred to as the "DVDFab" software brand. By the way, all of these software programs can be operated independently. Additionally, there is a subscription-based offering called "DVDFab365" that provides access to all DVDFab software and services.
What is DVDFab Blu-ray Copy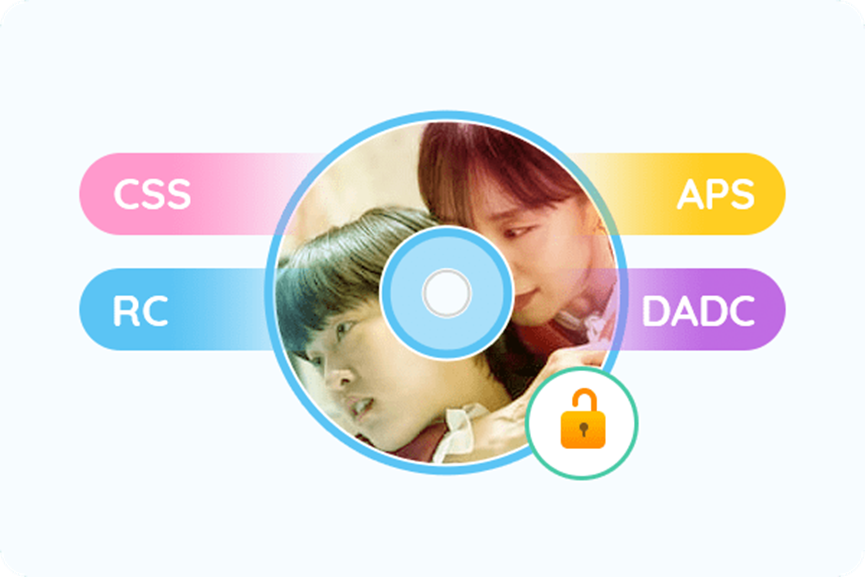 DVDFab Blu-ray Copy is software designed to decrypt Blu-ray discs and make copies to Blu-ray discs/folders/ISO files. (It can also copy DVD discs, but the copied content cannot be played on DVD players.)
DVDFab Blu-ray Copy can be rightfully considered the ultimate Blu-ray copying software, as it supports various types of Blu-ray copy protections such as AACS, region codes, BD+, and Cinavia. It offers five copy modes, allowing users to freely choose to copy the entire Blu-ray, the main movie, or specific chapters. Moreover, it provides a wide range of customizable options including titles, chapters, subtitles, audio tracks, volume labels, and output settings.
Another significant feature is the ability to write Blu-ray content onto various blank DVD discs such as DVD+R/RW, DVD-R/RW, DVD+R DL, DVD-R DL, and more. This capability proves to be convenient when Blu-ray discs are not readily available or when cost-effective DVD backups are required. It offers a practical solution for scenarios where Blu-ray discs might not be immediately accessible or for cases where DVD backups with good cost-performance are needed.
The appeal of DVDFab Blu-ray Copy
With its feature-rich experience, DVDFab Blu-ray Copy may indeed satisfy all your Blu-ray copying needs and could be considered the industry's top Blu-ray copying software for both Windows and Mac platforms. It enables you to quickly and effectively edit and copy Blu-ray content with high quality. The 30-day free trial is a welcome offer, and in addition to Blu-ray copying, you can also access free features for DVD copying, DVD ripping, Blu-ray ripping, and video conversion.
DVDFab Blu-ray Copy offers unparalleled capabilities, capable of bypassing various copy protections in history, supporting all types of Blu-ray discs including commercial, rental, self-made, 3D, ISO files, folders, and even special BD discs. It provides five copy modes for optimal-speed copying.
It supports output to BD50, BD25, BD9, and BD5, accommodating both high-quality 1:1 copies and compressed copies. It can also convert DVDs, Blu-rays, and videos to high-quality MP4 or MKV formats while maintaining the original audio quality.
The software allows for lossless high-quality audio preservation during copying. It comes with versatile editing features, enabling free editing and selection of subtitles and tracks. It even includes a built-in player for previewing videos after copy protection removal.
With support for multiple languages including Japanese, DVDFab Blu-ray Copy is user-friendly and intuitive, suitable for beginners and experts alike.
Additionally, you can enjoy a 30-day free trial of all features!
How to use DVDFab Blu-ray Copy
Step 1: Download and Install DVDFab Blu-ray Copy, the latest version, on a computer with a Blu-ray drive.
Launch the Blu-ray Copy installer by double-clicking it, then click the "Click to Install" button. The software will be downloaded and installed automatically after a short while. The installation process takes only a few seconds, and it's clean and safe, without any advertisements or viruses.
Step 2: Once successfully installed, launch DVDFab. From the main screen, select the "Copy" option.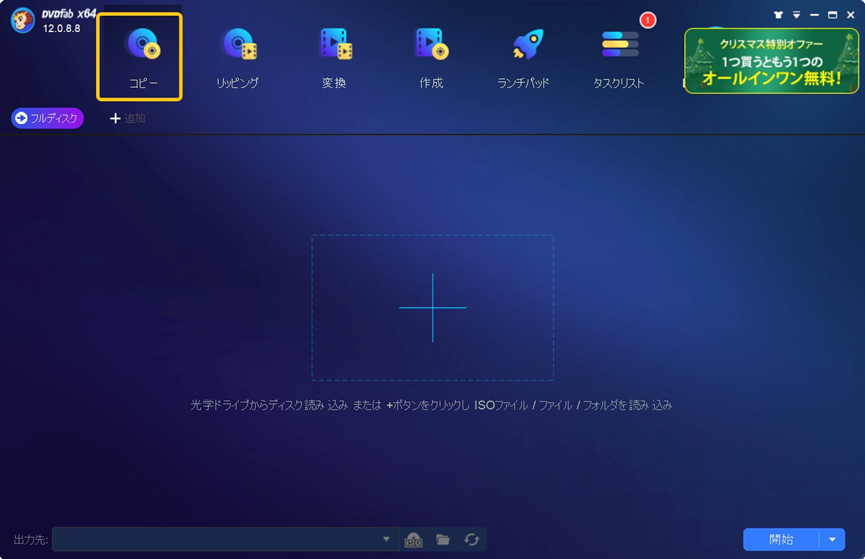 Using the "→" option on the left side of the main screen, you can choose the Blu-ray copy mode.
There are six copy modes available: "Full Disc," "Main Movie," "Customize," "Clone/Writing," and "Merge." Depending on your preference, you can freely back up the entire Blu-ray or specific parts. Here, we'll choose the "Full Disc" copy mode.
Step 3: Insert the Blu-ray disc you want to copy into the Blu-ray drive. Once successfully loaded, you can check detailed information and preview the content on the main screen. On the right side of the "Search for Movie/TV Show" option, you can select the output Blu-ray size.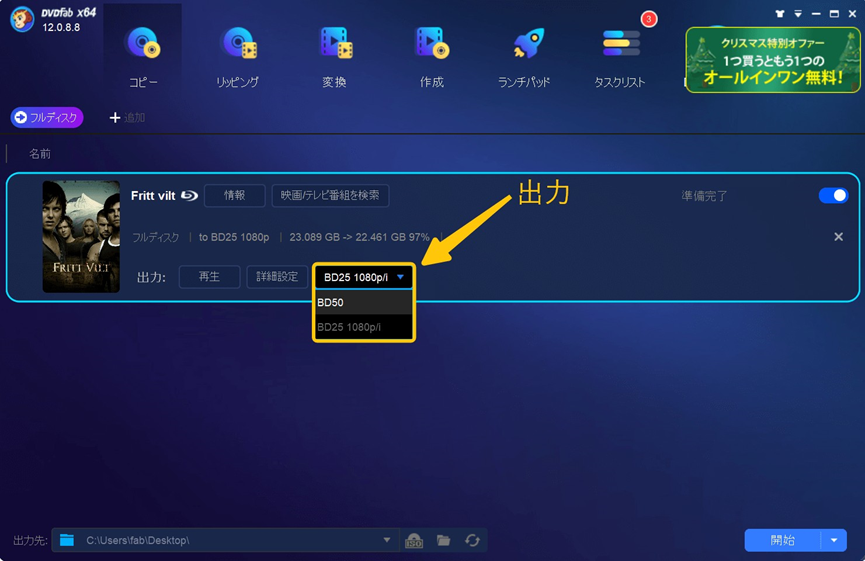 If you want to change the volume label and set the output to BD25/BD50, click the "Advanced Settings" icon and configure your preferences.
Note: DVDFab Blu-ray Copy can also copy Blu-rays onto DVD media such as DVD+R/RW, DVD-R/RW, DVD+R DL, DVD-R DL. If you wish to save a Blu-ray movie onto a DVD single/dual layer, specify BD5 or BD9 as the output. However, be aware that compressing BD-25 and BD-50 onto DVD-5 and DVD-9 discs will still contain Blu-ray content, requiring a Blu-ray playback device.
Step 4: After configuring the settings as mentioned above, specify where you want to save the output Blu-ray. If you simply want to save the Blu-ray to your hard drive, click the option "Save as Movie Folder" or "Save as ISO Image File" next to it. If you want to back up onto a blank Blu-ray disc, set your used writable drive as the output directory.
Following these three steps, you can complete the Blu-ray copying process. With this method, you can easily copy Blu-rays without damaging the source BD disc, and enjoy the copied BD disc or BD files freely.
Conclusion
In summary, this article provides a detailed overview of DVDFab ブルーレイ コピー
features and usage. It highlights its capability to handle various Blu-ray protections and support different copy modes. Don't hesitate, go ahead and download it to give it a try for yourself!
Similar Posts: