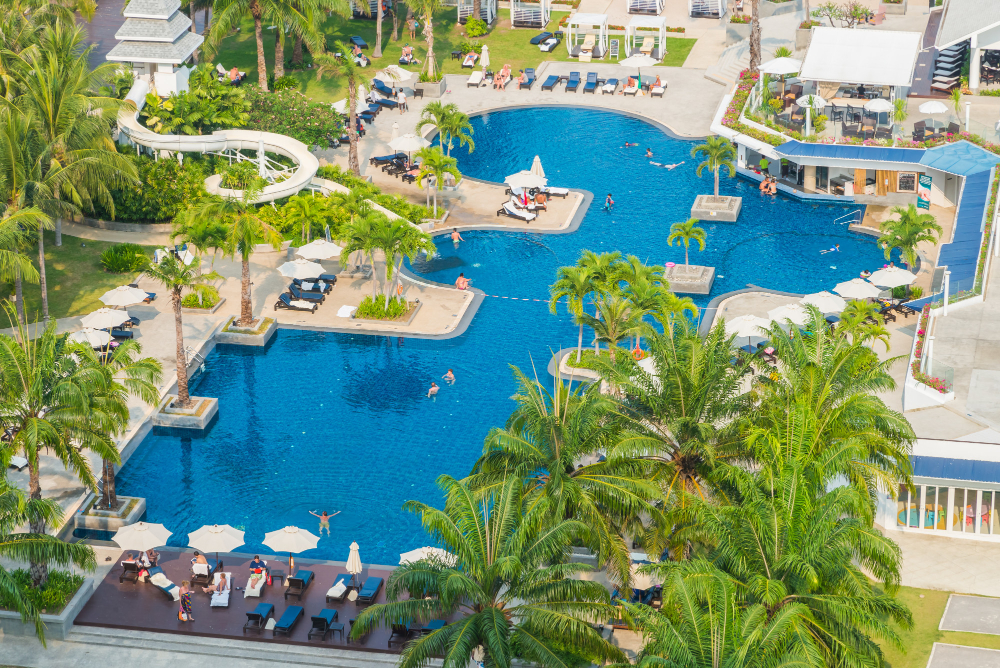 Positioned in Southwest Asia, Kuwait shares borders with Saudi Arabia in the south and Iraq in the northwest. It has the Persian Gulf to the east. Kuwait is a cultural hub of the Middle East and one of the Arabian Gulf's friendliest tourist attractions.
Kuwait attracts tourists with its exceptional Arabian hospitality, awe-inspiring Kuwait Towers, intriguing historical and modern architecture, friendly people, serene beaches, amazing Arabian cuisine, and rich culture.
You can reach Kuwait International Airport (KWI) by flying Middle East Airlines, which offers special deals and discounts. You can check for the lowest fares on the airfare calendar and book tickets on a particular date, checking the flight and seat availability, arrival and departure timings, and onboard services.
Tourists travelling with families can find several ritzy resorts offering high-quality accommodations with excellent amenities. Some of the leading resorts in Kuwait offering a comfortable stay, entertainment, and recreation are:
Mövenpick Hotel & Resort Al Bida'a
With contemporary Mediterranean-style interiors, Mövenpick Hotel & Resort Al Bida'a Kuwait attracts visitors who look for ultimate luxury and comfort. It is located on a beautiful beach where white sand and blue waves converge, making it the perfect place for both leisure and business travel. This 5-star hotel is 15 minutes from Kuwait International Airport.
Mövenpick Hotel & Resort Al Bida'a is a lovely place to spend a lot of time, with 280 opulent rooms, a 200-meter private beach, two shisha terraces, five pools, two restaurants, a kids' playground, a health club, and a spa.
The rooms are designed to have a modern look and are commodious, comfortable, and convenient. All the rooms feature a kitchenette with a refrigerator and microwave, while some of them have views of the pool or the ocean, exuding exclusivity and privacy.
Hilton Kuwait Resort offers an ideal weekend getaway under the stunning blue skies of the Persian Gulf. The resort offers a distinctive vacation experience to remember by blending traditional Arabian hospitality with modern amenities like spa treatments, ultra-modern facilities, great dining, and cosy rooms.
Rooms and suites include Business Deluxe, Double Deluxe, Queen, Deluxe, Royal Villa, and Presidential Villa, offering sea, pool, or garden views and a seating area. Being here, you can experience luxury living in a serene setting near the Arabian Gulf coast.
All the rooms, villas, and suites are designed to suit leisure and business travellers and families with children, with well-furnished bedrooms, well-equipped bathrooms, and free Wi-Fi access.
Hyatt Regency Al Kout Mall
The Hyatt Regency Al Kout Mall is ideally situated in the burgeoning oil and gas district of Kuwait, offering breathtaking views of the Arabian Sea. Guests can unwind in the rooftop pool, walk to the nearby beach, or visit Al Kout Mall, a fashionable entertainment and shopping destination on the waterfront.
The hotel has 200 newly renovated, modern rooms, including regency suites, junior suites, and premium suites with two bedrooms. Each room has a beautiful view of the city or the sea, a flexible workspace, and lots of natural light. Suites are spacious enough to have bedrooms, contemporary bathrooms, a dining area, a separate living room, and a kitchenette.
Jumeirah Messilah Beach Hotel & Spa, Kuwait
Located on Al Ta'awun Street, Jumeirah Messilah Beach Hotel & Spa Kuwait is just 10 minutes' travel from Kuwait International Airport. This 5-star property, with its position near Messilah Beach, offers a peaceful and idyllic getaway for tourists, who can experience the warm golden powdery sands and waves of the Arabian Gulf lapping at the shore.
The rooms are spacious, cosy, and pleasant, and they offer views of the beach, garden, or courtyard, making it the perfect home base for a vacation in Kuwait. Those travelling with friends or families can use connecting rooms to accommodate more people.
Staying in a villa lets you experience the intimacy and privacy of the space while also having access to hotel amenities. Guests can have an amazing selection of dining options, with several restaurants, lounges, and cafes offering an extensive range of cuisines. Also, Talise Spa offers an array of treatments, giving you the option to select from various soothing massages and special treatments for couples to Hammam collections and rejuvenating rituals.
Argan Al Bidaa Hotel and Resort, Kuwait
The Argan Al Bida'a Hotel & Resort is situated in the Persian Gulf's northernmost part. This stunning family getaway, which features 109 Suites with views of the calm waters of the Mediterranean Sea, is known for offering thrilling activities for families, including children. The resort also has a well-equipped fitness centre, a water sports area, five swimming pools, a kids' play area, and a health club.
The resort also has different restaurants like BBQ Bros, Backyard, and Reyhan, offering a variety of dishes and mind-blowing views of the Arabian Gulf. Argan Al Bida'a is known for its commodious luxury studios, with a large balcony overlooking the beautiful pool and lush green garden, and family suites with two and three bedrooms.
Copthorne Al Jahra Hotel & Resort
With an excellent collection of 260 suites, rooms, and chalets with stunning views of the pool or mountain, Copthorne Al Jahra Hotel and Resort is a leading resort in the northern part of Kuwait for tourists.
You can book a suite or room at a luxurious 4-star hotel with amenities including a well-equipped kitchen, free Wi-Fi, two big outdoor swimming pools, and a children's playground. A theme park featuring rides on "The 99 Comic Characters" is just a short distance away and is likely to excite children.
The resort also offers numerous on-site recreational amenities, which include a sizable fitness centre with a Jacuzzi, sauna, and steam room, an upscale shopping centre, a jogging park, and a range of upscale dining and entertainment options nearby.
Located at the Avenues Mall, the Waldorf Astoria Kuwait has more than a thousand stores, dining options, and a movie theatre. It can be easily reached from the Jaber Kuwait International Airport and other famous landmarks. Other than an outdoor pool, the hotel has five restaurants, a private Ikaros Club and the Waldorf Astoria Spa.
The 200 tastefully decorated rooms and suites combine traditional grandeur with a contemporary sensibility to provide peaceful locations to unwind after a hectic day. When the spacious rooms are designed to provide modern comforts for a peaceful stay, the suites offer extreme luxury with separate spaces for relaxation, work, and entertainment.
As for dining, you can find restaurants like Ava, Roka, Oxio, and Peacock Alley to satisfy every palate and mood.
You can plan your visit to Kuwait in the months between November and April. Nevertheless, it is advisable to check for the best Middle East Airlines flight deals and book tickets early.